The Whirlpool Dishwasher WDT750SAKZ is the perfect dishwasher for your home. It has all the features you need to get dishes clean and dry, and it's loaded with convenient features that make everyday life easier. You can load more items in this dishwasher than ever before, thanks to its adjustable Rack and flexible 3-piece Silverware Basket. It has a sleek stainless steel finish that looks great in any kitchen!
This dishwasher will save you time and energy by running fewer cycles while still getting your dishes sparkling clean every time. There are also many different cycle options, so you can choose what works best for each load – from heavy-duty to delicate settings – depending on how dirty your dishes are or what kind of items they are made of. With just one touch, this machine will do everything else itself, so all you have to do is sit back and relax as it takes care of the rest!
In-depth Review: Whirlpool WDT750SAKZ Dishwasher
The Whirlpool dishwasher's net weight is 85 lbs. it has five options for washing your dishes, including the Hi-Temp Wash option that removes leftover food on plates to make them sparkling clean! There's also Sani Rinse®, Heated Dry, ExtendedDry, and a 1-24 hour delay timer so you can set it when they're washed.
The Whirlpool dishwasher is one of the most feature-packed models we've ever seen, with a list of functions created to meet any need from regular use to those hectic days when we all have less time than ever. The Whirlpool WDT750SAKZ dishwasher has positive user feedback.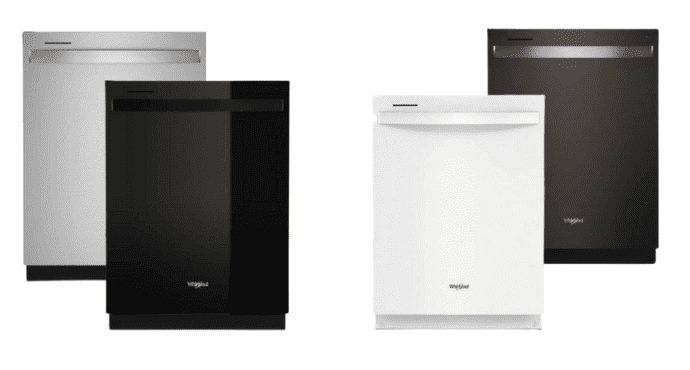 First Impressions
From the get-go, the Whirlpool WDT750SAKZ makes a strong visual statement. Its smooth, modern exterior with a brushed stainless finish looks premium and boasts an impressive resistance to fingerprints. Parents with little kids and pets will particularly appreciate the smudge-free surface. The large handle enhances its sophisticated appearance, and top-facing basic controls give it a streamlined look.
What We Like
1. Impressive Cleaning Performance
The Whirlpool WDT750SAKZ has showcased exceptional cleaning abilities in our tests. Be it casseroles or spinach-laden smoothies, this dishwasher handles stubborn stains with impressive ease. The Heavy and Normal cycles managed to get dishes 99.3% clean, outperforming the average dishwasher by a considerable margin.
2. Adjustable Upper Rack
One feature that truly stands out is the adjustable upper rack. Those who struggle to fit larger utensils or dishes will find this feature immensely useful. This design tweak ensures you can accommodate larger dishes without hand washing.
3. Third Rack for Large Utensils
Say goodbye to the problem of where to place your larger kitchen utensils. The third rack, designed explicitly for bulkier kitchen items, provides an efficient solution, ensuring optimum space utilization.
4. Stainless Steel Finish
A unique feature of the WDT750SAKZ is its fingerprint-resistant stainless steel finish. Not only does it add a touch of elegance to the dishwasher, but it also ensures the surface remains smudge-free, even with repeated touches.
Areas to Improve
1. Slow Wash Cycles
While the cleaning efficiency is commendable, the WDT750SAKZ's wash cycles take longer than expected. The Normal cycle stretches nearly three hours, and the Heavy cycle surpasses the 4-hour mark. This might be a point of contention for households that run multiple dishwasher cycles daily.
2. Minor Redeposit Issues
During our tests, we noticed minor redeposit issues, where food particles were washed from one dish to another. While the problem isn't extensive, it's worth noting for those who prioritize impeccable cleanliness.
3. Limited Cycle Configurability
More cycle customization or adjustable tines would have enhanced the dishwasher's appeal, offering users a more personalized cleaning experience.
Warranty
Whirlpool offers a standard one-year limited warranty on this model, covering replacement parts and labour. This aligns with industry norms, though some competitors provide longer coverage.
Should You Buy It?
Absolutely. The Whirlpool WDT750SAKZ offers commendable performance, aesthetic appeal, and functional features, making it a valuable addition to any kitchen. While it has its quirks, they're outweighed by its benefits, especially given its affordable price point.
In conclusion, the Whirlpool WDT750SAKZ is a robust contender in the mid-range dishwasher segment and is well worth considering for your next purchase.