Do you want a dishwasher that is quiet and efficient?
The Bosch SHEM3AY55N has a 14 place setting capacity with 6 wash cycles. Decibel Level of 50 dBA lets you enjoy peaceful quiet in the kitchen without distraction. This dishwasher is Designed with 18 sound-reducing technologies. Your Bosch dishwasher is seen, not heard, so you can focus on what you care about most in the kitchen.
You'll be able to spend more time doing what matters most to you while enjoying peace and quiet in the kitchen because this dishwasher will do all the work for you! It also features a ChildLock button suspension system which prevents your child from opening the dishwasher, and a hard food disposer for smaller particles that slips through your dishes and into the drain.
Specifications
The dishwasher shem3ay55n can save up to 280 gallons of water each year. It has Self-Latching Door Stays Put and Latches, Red Remaining Time Display, perfect for those with delicate dishes or soup bowls that need extra care when washing them.
The Delicate Wash function isn't just there as decoration either; it actually does a fantastic job at getting rid of all food residue off your china plates without damaging their porcelain finish–saving you time from having to do so yourself every day.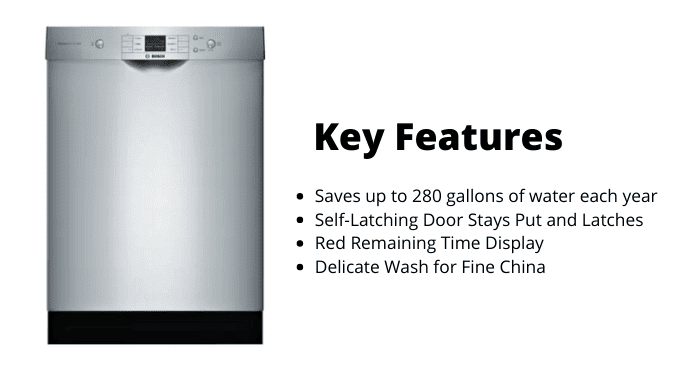 Bosch SHEM3AY55N Dishwasher In-Depth Review
Bosch dishwashers have long been celebrated for their efficiency, style, and solid performance. Let's deep dive into the Bosch SHEM3AY55N model from their 100 series.
Appearance and Build
Right out of the box, the Bosch SHEM3AY55N boasts a contemporary design that fits seamlessly into modern kitchens. With choices between black and white finishes, homeowners can pick one that complements their kitchen palette. Its stainless steel handle exudes a premium feel, a common expectation from Bosch products.
Pros:
Affordable Price: Despite its rich feature set, the SHEM3AY55N comes at an accessible price point.
Quiet Operation: Running at a gentle hum of 50 dBA, it won't disrupt your home ambiance.
Aesthetic Design: With its clean lines and quality build, it elevates kitchen décor.
Holds Ample Dishes: A boon for medium-sized families, ensuring fewer loads.
Cons:
Loading Difficulty: The bottom rack layout could pose challenges to some users.
Plastic Tub Base: While this keeps the price down, some users might prefer a full stainless steel interior.
Presence of a 3rd Rack: Though beneficial for some, others might find it consumes space.
What We Like
From a reviewer's standpoint, here's what stands out with the Bosch SHEM3AY55N:
Quiet Operation: At 50 dBA, it's one of the quieter models on the market.
Energy Efficiency: Its Energy Star certification and reduced annual water consumption are definite pluses.
Flexible Wash Options: With multiple wash cycles, users can choose the one best suited for their current load.
Build and Design: The modern design with a stainless-steel handle lends a touch of elegance to any kitchen.
Affordability: For its feature set, the dishwasher is reasonably priced, offering excellent value for money.
Areas to Improve
Despite its merits, there are a few areas where users feel the dishwasher could improve:
Rack Design: The bottom rack can be challenging for some users to load efficiently.
Plastic Tub Base: A common gripe is the plastic base, with some users expressing a preference for an all-stainless-steel interior.
Drying Mechanism: While the Sanitize Option aids in drying, some users note that plastic items might still retain some moisture.
Reviews and Ratings
From a general overview of user reviews:
Most users commend the Bosch SHEM3AY55N for its quiet operation and efficient cleaning.
Its energy-saving attributes have also garnered praise, with users noting significant reductions in their utility bills.
On major rating platforms, it consistently scores above 4 out of 5 stars, signaling a high satisfaction rate among customers.
Washing Cycles, Drying Mechanisms, and Options
The Bosch SHEM3AY55N offers a diverse array of washing cycles tailored for a variety of needs:
1 Hour Wash: For those in a hurry.
Auto Wash: Senses the level of dirt and adjusts the wash cycle accordingly.
Hand Wash: A gentler cycle for delicate dishes.
Normal Wash: Standard cycle for everyday cleaning needs.
Pots & Pans: Intensive cleaning for heavily soiled dishes.
Its drying mechanism primarily relies on its Sanitize Option. This function not only eliminates germs but also enhances drying, reducing the need to towel-dry dishes post-wash.
Performance Metrics
With 6 distinct wash cycles, there's a setting for every need, whether it's a speedy rinse or a deep clean. Especially notable is its Variable Spray Pressure and Sanitize Option, which work in tandem to ensure dishes not only come out spotless but also germ-free.
Energy and Efficiency
Earning an Energy Star certification, this dishwasher shines in the efficiency department. Consuming a modest 688 gallons annually and translating to an estimated yearly running cost of just $35, it's both eco-friendly and wallet-friendly.
Ease of Use and Convenience
A 24-hour Delay Start Timer offers flexibility, letting you run the dishwasher at your convenience. Additionally, its leak protection system ensures you won't face unwanted puddles on your kitchen floor.
Space and Loading
Designed for medium-sized households, it comfortably fits 14 place settings. With two main racks and an additional utility rack, every dish and utensil finds its place. Its Manual Height Adjustment for the upper rack is an added touch, allowing users to create space as required.
Noise Quotient
At 50 dBA, the SHEM3AY55N ensures a whisper-quiet operation, a blessing especially if your living and dining spaces are close to the kitchen.
Smart Features
Bosch's PrecisionWash sensors continually assess the cleaning process, adjusting as needed. Powerful spray arms ensure even the most stubborn of food residues are removed.
Quality Assurance
Each Bosch SHEM3AY55N undergoes 485 meticulous quality checks before reaching your home. This painstaking attention to detail ensures that every user gets a product that stands up to Bosch's reputation.
Maintenance and Cleanliness
The Fingerprint Resistant Stainless Steel finish is a welcome feature, reducing unsightly smudges. This ensures the dishwasher remains gleaming even with regular use.
Additional Touches
Its removable silverware basket is a boon, simplifying the loading of cutlery. With multiple wash programs like 1 Hour, Auto, Hand Wash, and Pots & Pans, every dish type and dirt level is catered to.
Technical Bits
The SHEM3AY55N is a built-in model, weighing in at 76 lbs. With a power operation at 1,440 watts, it ensures efficient cleaning while conserving energy.
Final Thoughts
The Bosch SHEM3AY55N from the 100 Series is a solid middle-ground choice. It marries affordability with a host of features that most households would find beneficial. While it might have a few downsides, like its partial plastic tub and certain rack design choices, its cleaning prowess, energy efficiency, and aesthetic design make it a commendable choice for many homes. For those on a budget but unwilling to compromise on quality, this Bosch model ticks many boxes.
Also Check out more reviews on bosch dishwashers like SHPM78Z55N Dishwasher.