Last updated on September 3rd, 2023 at 06:40 am
When selecting a Hydro Flask, many people consider long-term use. The durable, high-quality bottles are typically a "one in a lifetime" purchase. Long-term maintenance is closely tied to long-term investments.
Understanding how to wash a Hydro Flask is critical to keeping it clean. Because it's made of steel, instinct and common sense indicate it's as simple as putting the bottle in the dishwasher. Is Hydro Flasks dishwasher safe?
You probably can't put your Hydro Flask in the dishwasher. Some bottles, however, are dishwasher-safe. So, which is it? Your standard Hydro Flask bottles are not dishwasher safe. However, those made in 2020 are dishwasher safe.
Still in doubt? Is Hydro Flask dishwasher safe? This article will provide you with detailed answers to all of your queries.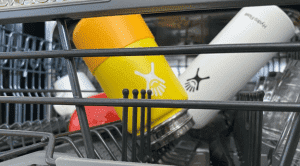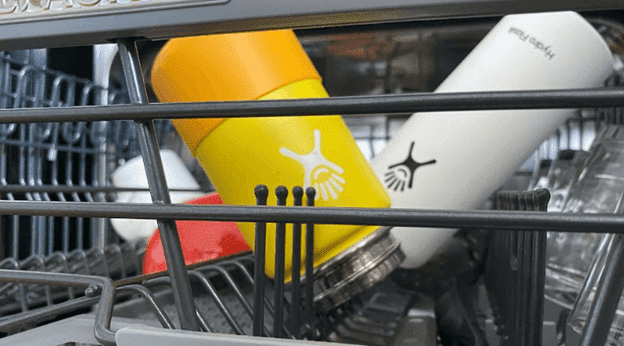 Hydro Flask Redesigned their Bottles in 2020 and made them Dishwasher Safe
"Hydro flasks cannot be washed in the dishwasher." In 2020, the answer became, "yes, Hydro Flasks are dishwasher safe, but yeah, there are certain things you should be aware of."
Even while Hydro Flask has revised the product descriptions for most of its products to indicate that they are dishwasher safe, the care instructions still advise against using dishwashers. That's acceptable, given the volume of pages to manage and the fact that items occasionally slip through the cracks. I wouldn't be shocked if it was upgraded shortly.
The new wide-mouth Hydro Flask water bottles have a new matte powder coating for a better grip and no sweat. With a basic modern water bottle design, the Hydro Flask wide-mouth insulated water bottle with a straw lid has reimagined what a classic metal water bottle can be.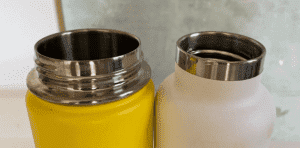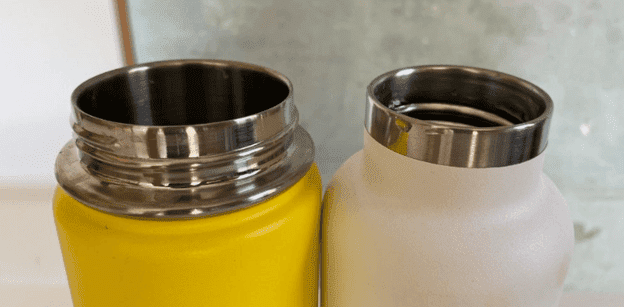 Why isn't Hydro Flask Bottles Dishwasher Safe?
Dishwasher safe is all Hydro Flask versions released after 2020. Due to excessive water temperatures, older Hydro Flask versions can be ruined in a dishwasher. Set the water temperature from 95°F to 110°F if you want to clean your Hydro Flask in the dishwasher.
The inside of the Hydro Flask can survive high temperatures, but not the outside. The dishwasher can grow quite hot occasionally, causing damage to the outer insulation, which is the primary benefit of the Hydro Flask. The insulation cannot be repaired once it has been damaged.
Initially, Hydro Flask advised against using dishwashers because:
The dishwasher can get hot enough to influence the outer layer of the flask, reducing insulation;
Dishwashers can damage the powder coating on the exterior of the flasks.
Both of these issues appear to have been resolved. The insulation in new Hydro Flasks is no longer at risk of being damaged by dishwashing heat. Furthermore, the powder finish on the exterior may now withstand dishwashers without being damaged.
Reports have shown that running the Hydro Flask through dishwashers causes the color to fade. Because the bottle is still relatively young, there isn't enough evidence to say one way or the other.
Are Hydro Flask Lids Dishwasher Safe?
Yes, you can put the lid and straw of your Hydro Flask in the dishwasher. The Hydro Flask lid and straw are top-rack dishwasher safe. If you want your Hydro Flask to last longer, I recommend hand-washing it and its accessories.
The following Hydro Flask lids can be washed in the dishwasher.
Lid for Hydro Flip
Straw Lid with Wide Mouth
Flex Sip Cap with a Wide Mouth (when disassembled)
The Following Hydro Flask Lids cannot wash in the dishwasher.
Mouth Flex Cap Standard
Flex Cap with Wide Mouth
Sports Cap with Standard Mouth
Flat Wide Mouth Cap
Flat Stainless-Steel Cap
Standard Loop Cap
Narrow Loop Cap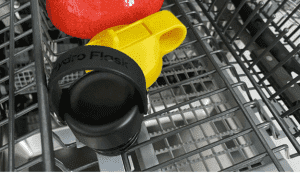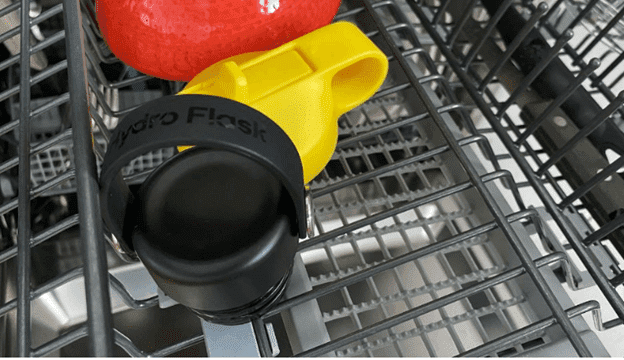 What Happens If You Put Your Hydro Flask in a Dishwasher?
The hot water impact of the dishwasher may damage the hydro flask's insulation.
Dishwashers are not safe for Hydro Flasks that are not powder coated. Some people use hydro flasks like standard water glass or steel items. However, the situation with the hydro flasks is different.
These vacuum-insulated stainless steel hydro flasks are vacuum-insulated. They may appear as rough materials, but placing them in a dishwasher can destroy their durability and insulation. Dishwasher washing arms may also not effectively clean the interior of the hydro flask.
Dishwashers frequently use warm water to clean flatware, especially when sanitize mode is selected. The warm water effect aids in the removal of stubborn stains while also keeping the products bacteria-free. Hot water might impair the insulating properties of the flask, discoloring the powder effect.
Similarly, immersing the flask in hot water outside is not safe. Heat can harm the flask's external body, diminishing the flask's ability to keep the water cool.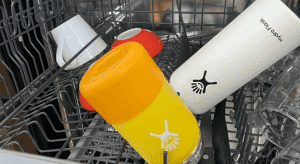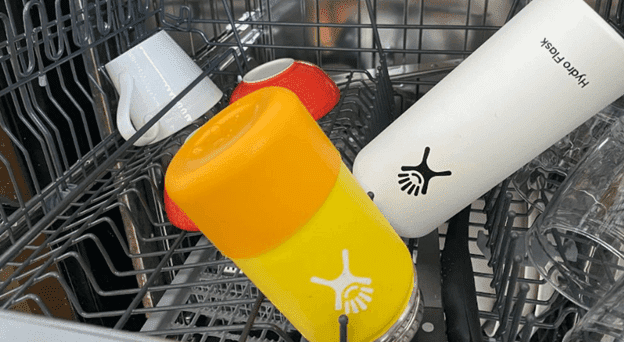 How Should You Clean Your Hydro Flask Bottle?
Hydro flasks must be cleaned once a day under normal conditions.
Hydro flasks can be cleaned with a bit of vinegar or soap water. Hand washing water flasks in warm water kill bacteria and extend their life.
It is recommended that if you use your hydro flask for water, you clean it once a week by giving it a good wash with soap, water, or vinegar. On the other hand, cleaning your hydro flask with warm water can reduce the probability of bacterial infections.
If you store tea or coffee in your hydro flasks, you should clean them daily with proper cleaning methods. Elements of coffee or tea may be stickier and have more apparent effects than water.
To clean the inside of the bottle, use a long-handled brush with stiff bristles and a soft sponge or rag.
Use rough or abrasive cleansers with caution, especially on the exterior of the Hydro Flask, as they can scratch the bottle and remove the powder-coated paint.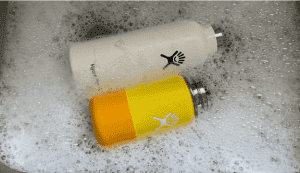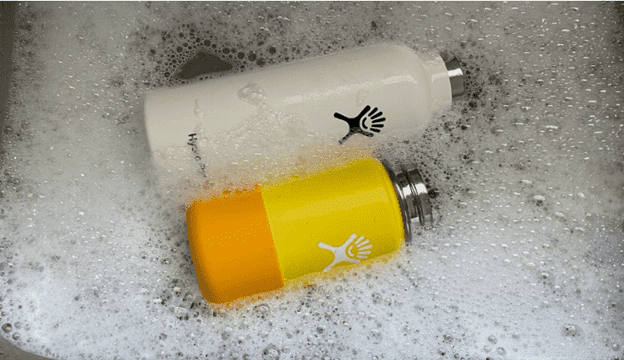 Wrap Up
Can you put Hydro Flasks in a dishwasher? Sure, you can. Is Hydro Flask dishwasher safe? No, it isn't precisely like that. Dishwashing, the Hydro Flask, could harm the insulation and powder coating. This flaw will make the flask less practical and attractive.
Using a dishwasher to clean your Hydro Flask depends on the model of the Hydro Flask and the dishwasher. You can clean your Hydro Flask using the Fruit program in a HAVA dishwasher at room temperature. Furthermore, it can be used with the Speed program at 122 degrees Fahrenheit.
See the full range of Hydro Flask bottles at Official Website
Frequently Asked Questions
What Do You Do If Your Hydro Flask Bottle Is Extremely Dirty?
If your Hydro Flask is unclean or begins to smell like mildew and requires a more thorough cleaning than soap and water, there are many options.
Bleach should be avoided since it can discolor and damage stainless steel.
Is it necessary to clean your Hydro Flask?
After each use, hand washes your bottle with dish soap and warm water. Scrub the threads on your bottle's mouth with a sponge, paying specific attention to the interior of the cap. Customers are advised not to immerse the entire bottle in hot water, as this might cause discoloration and damage to the exterior.
Can bacteria grow in a Hydro Flask?
Fungi and bacteria can develop in the wet sections of a Hydro Flask water bottle. If a Hydro Flask water bottle is not cleaned regularly, fungus and bacteria can accumulate, making cleaning a Hydro Flask water bottle more difficult.
Why is there black stuff in my Hydro Flask?
Mold thrives in the dark, damp settings, much like the one provided by your water bottle. Individual mold spores are tiny (so small that they cannot be seen with the naked eye), but if enough mold spores grow in one spot, they can become apparent.
Can I leave water in my Hydro Flask for an extended period?
Stainless steel bottles like the Hydro Cell have a double wall and vacuum seal to keep your drinks cold for hours. Hydro Cell can keep your drinks hot for around 8 hours and cold for approximately 24 hours.