Last updated on September 3rd, 2023 at 06:41 am
If you have a dishwasher from Bosch, then you may be wondering what all the different symbols on your dishwasher mean. Your dishwasher is a complicated machine with many different parts and pieces that need to work together to do its job.
Luckily, we will help break down the dishwasher symbols so that you can identify each one and know what they represent.
The h01 (h: 01) and h02 (h: 02) signs are believed by most Bosch dishwasher users to indicate an error. This is not a mistake, and you triggered the start-up timer menu (washing dishes will be delayed).
If your display shows h01, washing dishes will begin at 1 hour; if it displays h02, washing will begin 2 hours later. In most Bosch dishwasher models, a delayed start may be set in increments of 1 to 24 hours.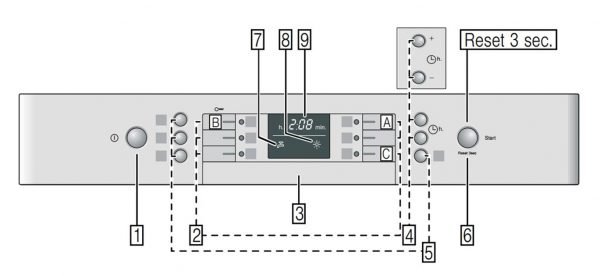 Timer programming
You can postpone the start of the software by an hour in 1-hour increments up to 24 hours.
Close the door.

Switch on ON/OFF switch [1].

Press button [4] + until the digital display [9] jumps to h:01

Press [4] + or – button until the displayed time corresponds with your requirements.

Press the START button [6]. Timer programming is activated.

To delete timer programming, press the [4] + or – button until h:00 is indicated on the digital display [9].
You may modify your program choice at any time until the program begins.
Recent Posts:
What to do When Your Bosch Dishwasher Shows Water Tap Error